Tree Ogham script and the Tree Ogham Alphabet, which have been found carved into Standing Stones of the 5th, 6th and 7th centuries in Ireland, England, Scotland, Wales and the Isle of Mann, is formed by cutting parallel lines across a central perpendicular line, from bottom to top.

There are many variations and translations of the Tree Oghams, but the 12th Century books of Ireland, the Book of Leinster and the Book of Balymote are the most commonly quoted.

These Ogham glyphs, which correspond to the Sacred Trees found in Druid Groves, are steeped in myth, magic, and spiritual/psychological healing, and when used for divination are carved onto casting twigs, casting wooden tablets or small casting stones. I use tablets made from bog yew which is approximately 6000 years old.

These Tree Ogham tablets I then cast upon a Cloth.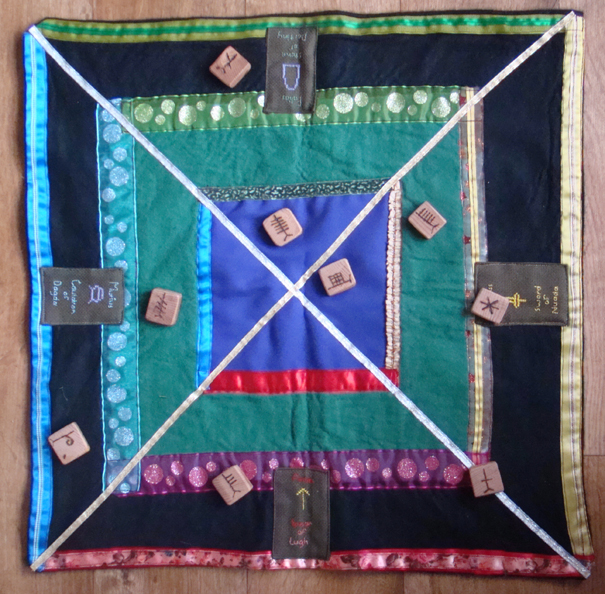 Both the Tree Oghams and the Cloth symbolically carry the knowledge, wisdom, myth and magic, found in:
~ The three worlds, Under, Middle and Upper
~ The three levels, Mental, Spiritual, and Mundane
~ The Six Directions, East, South, West, North, Above and Below;
~ The four Sacred Cities of the mythical 'Northern Isles', from which out of the mists, the people of the gods
(the Tuatha de Danaan) brought themselves and their gifts to Eireann.
* From Gorius, to the East, Nuada, Celtic god and chieftain, brought the Sword of Truth
* From Finias, to the South, Lugh, Celtic Sun god of many skills, brought the fire-flashing Spear of Light
* From Murius, to the West, Dagda, the Good Father and Celtic god, brought the Cauldron of Plenty
* From Falias, to the North came the Stone of Virtue/Destiny (Lia Fail),

During the time of the Celts and their Shamans/Priests, the Druids, the land was covered in forest. The Trees were revered as living, growing and changing beings, especially the trees which were Ancient Venerables. As Ancients, it was and is believed, that they held and hold the spirituality, magic, knowing, wisdoms and healing of the Ancestors.

Growing around my abode are all the trees of the Tree Ogham, which I visit and commune with daily.


TREE OGHAMS
Each Acme (group of five) should be read from the bottom, #1 to the top #5).